Residential Home Inspections

Heartland's comprehensive inspection is the same whether you're a buyer, seller or homeowner. The difference is how you plan to use it. Buyers need to make an informed purchase decision; sellers want an accurate picture of their home before they put it on the market to avoid surprises; and homeowners want to plan for their next chapter of home ownership.  
The inspector will visually examine all accessible areas of the home, from top to bottom, inside and out, and operate all major system components. It typically takes 2 to 3 hours depending on the home's size and condition and how much there is to talk about.
He's looking for: health and safety issues; visible structural issues; and major items or systems not functioning as intended; as well as signs of possible moisture penetration.
Clients are encouraged to attend the entire time to discuss issues and concerns firsthand. (A real time saver if you're under an inspection contingency.)
Your property report is emailed the same day and includes a summary of key findings, photos and helpful diagrams. Every Heartland inspection includes a 90-Day Home Warranty, an appliance RecallChek, a SewerGard protection plan, and a 100% Satisfaction Guarantee. These are additional ways Heartland is able to assist you and protect your home investment better than other companies.
The inspector examines: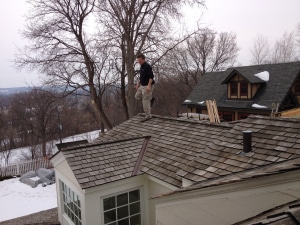 Grounds, grading and drainage
Roof, vents, flashings, and trim
Gutters and downspouts
Eaves, soffits and fascia
Chimneys and skylights (when accessible)
Siding, decks and porches
Garage, garage doors, safety sensors, and openers
Basement and foundation (including accessible crawlspaces)
Heating and cooling systems
Electrical system
Electrical service line and meter box
Electrical panel, breakers and/or fuses
Main electrical disconnect and service
GFCIs and AFCIs
Plumbing system
Main water shutoff valves
Water heating system
Interior plumbing fixtures
Drainage sump pumps (if present)
Attic framing, insulation and ventilation
Signs of moisture or water penetration
Interior rooms, doors and random sampling of windows
Fireplace dampers, doors and hearth
Discussion of home maintenance and any major issues observed
Click Here To View A Sample Heartland Inspection Report (pdf)